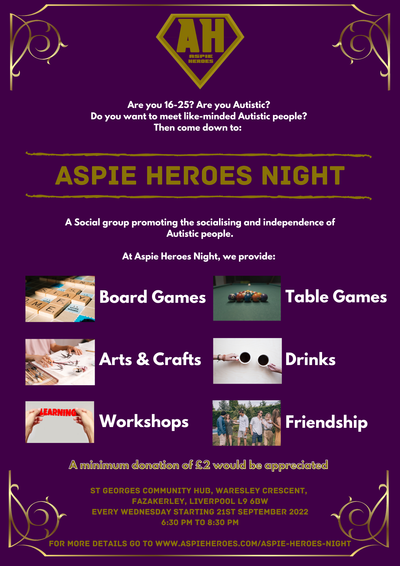 Are you 16-25?
Are you Autistic?
Do you want to meet like-minded Autistic people?
Then come down to:
ASPIE HEROES NIGHT
Aspie Heroes Night is a social group dedicated to bringing autistic people together in a safe space offering games, workshops and snacks to those who attend.
The whole idea of Aspie Heroes Night is to promote the independence of autistic people by bringing them to a place away from home, even if just for a few hours, where they can socialise with other like minded people and through workshops, learn new skills for the future.
If you or someone you know is autistic and would be interested then come along to Aspie Heroes Night and experience it for yourself.
Aspie Heroes Night will run every Wednesday from 6:30pm to 8:30pm. The address and a map to the address can be found in the Contact Us section down below.
Don't worry, if you are unsure about Aspie Heroes Night and want more details, then you can contact Mark (Aspie Heroes Night Founder) with the details provided in the Contact Us section down below and he will be happy to talk to you about it.